Easily create online quiz

Creative ways to design effective quizzes

Anytime & anywhere accessibility

Precise reporting system

Repository of features and benefits
Easily create online quiz

Creative ways to design effective quizzes

Anytime & anywhere accessibility

Precise reporting system

Repository of features and benefits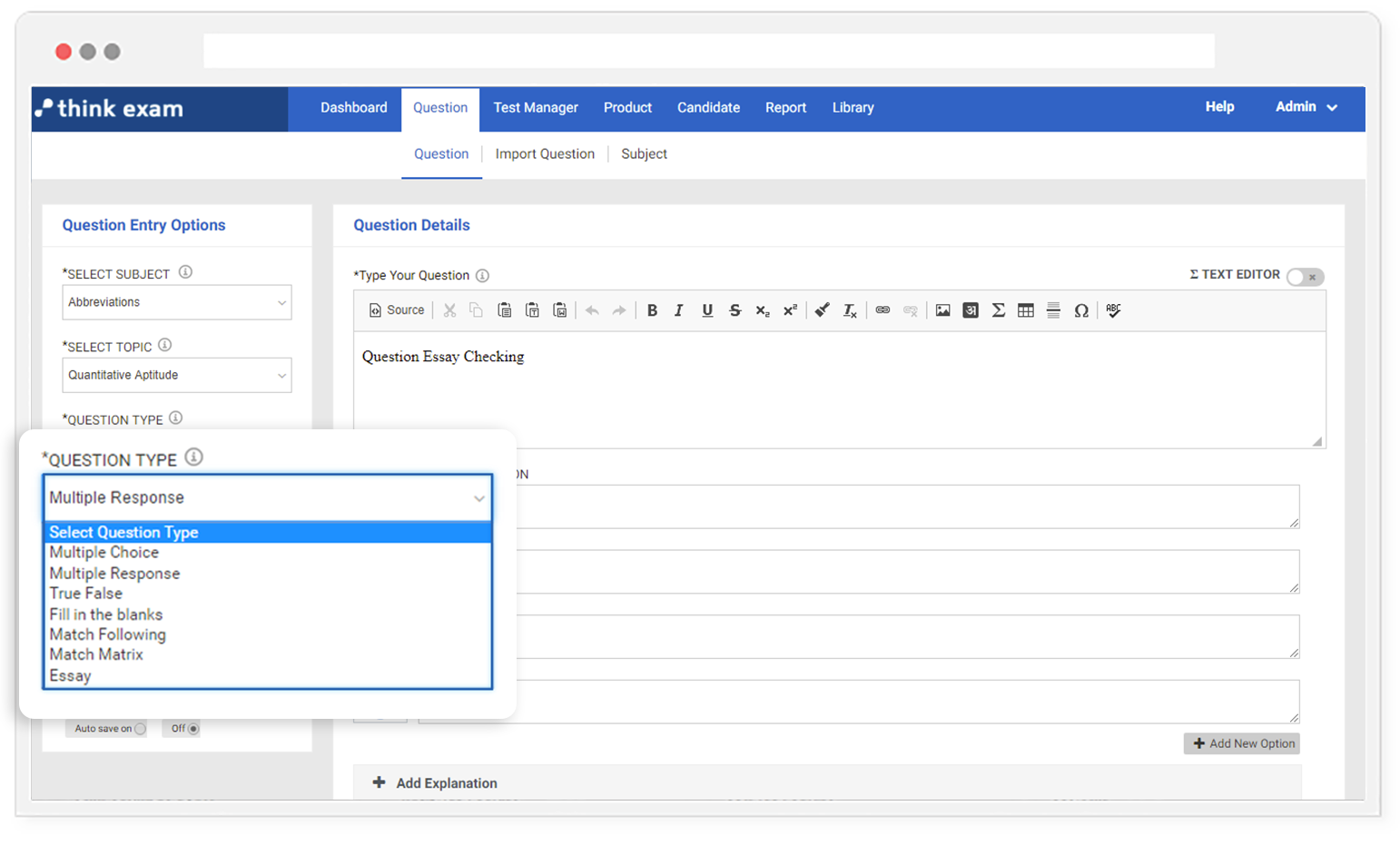 Seamless Creation of Online Quizzes
Now easily create online quiz and tests without any hassle or technology barrier. Think Exam the ultimate free quiz maker, is your perfect tool to create brightly enhanced and well synchronized quizzes in just few simple steps. It has phenomenal features and user-friendly interface that lets you create any variety of online quiz- timed/untimed quizzes, scored quizzes, personality quizzes and even formative quizzes.
Customize your quiz according to the need
8 variants of question types
Add videos, images, graphs and complex mathematical equations
Create online quiz of any type without any feature limitation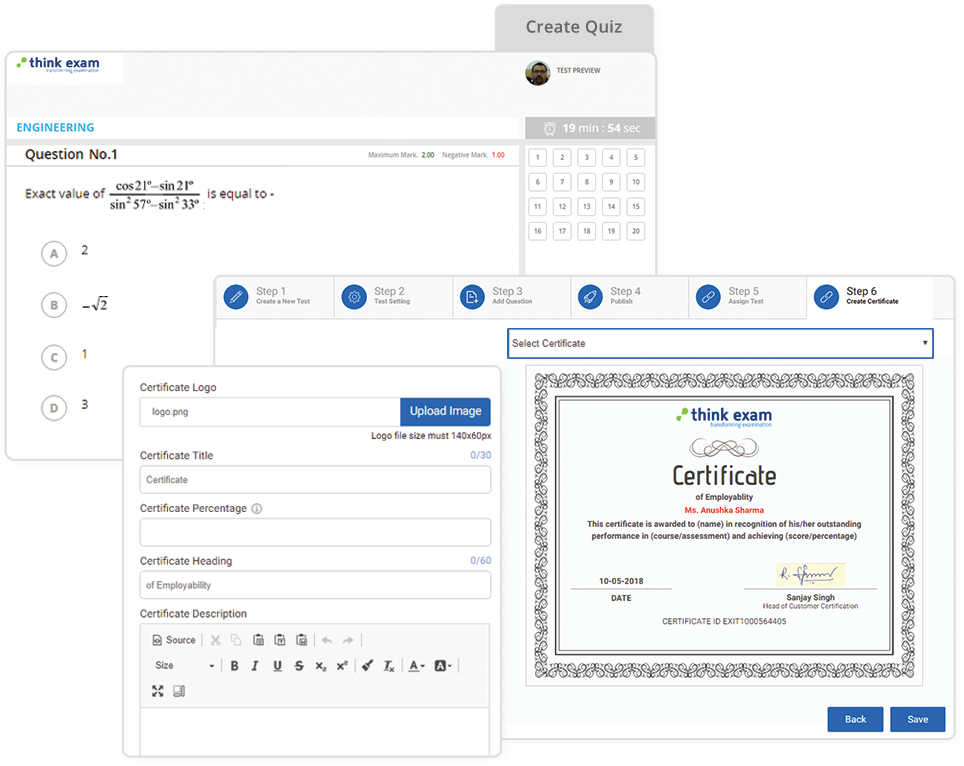 Creative ways to design effective Quizzes
Brighten your quizzes by adding variant shades with "Theme Manager" feature, which lets you add vibrant themes to the header and footer of the test panel. Also change the text color from black to white and vice-versa that goes beautifully in contrast with the theme color. Use professionally designed test templates and add your brand logo on it. You can also award customized certificates to the quiz takers by adding your own signature, brand logo and purpose on it.
Add colored vibrant themes
Use customizable test templates to create multiple quizzes
Create completion certificates
Add personalized touch to quizzes as well as certificates by adding your brand logo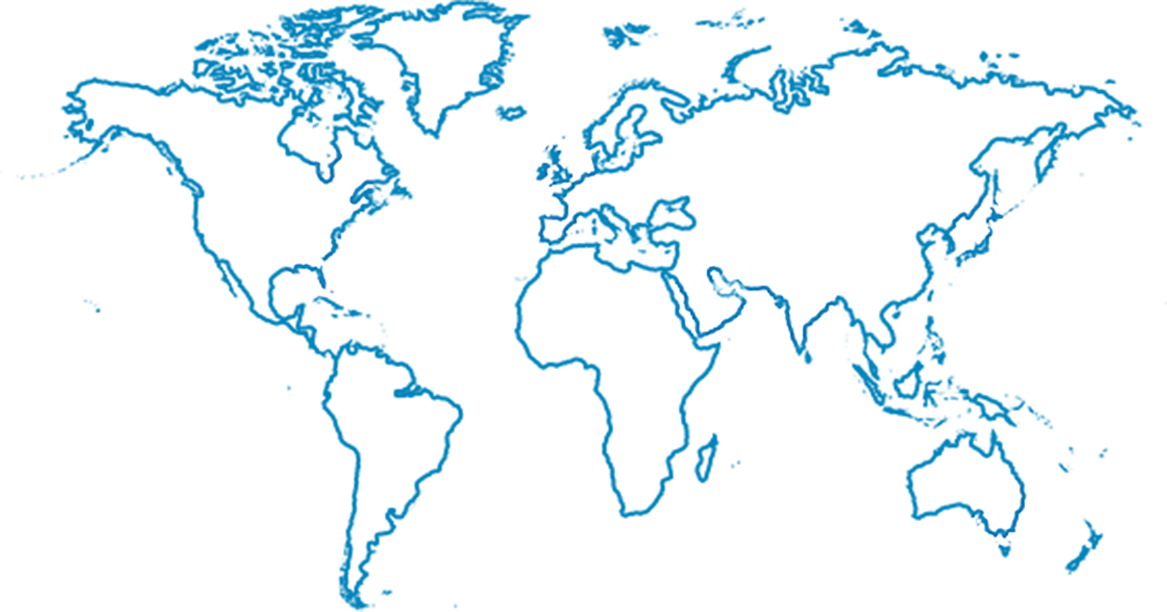 Anytime and anywhere accessibility
Get complete access to free quiz maker on all sorts of devices such as desktops, mobiles, laptops and tablets. Also compatible with Android and iOS platforms , the user-interface has been specifically designed with intuitive flow of information that adjusts in accordance with the type of operating device.
Compatible with all devices
Multi-language support
Lag free synchronized performance
Secured encoding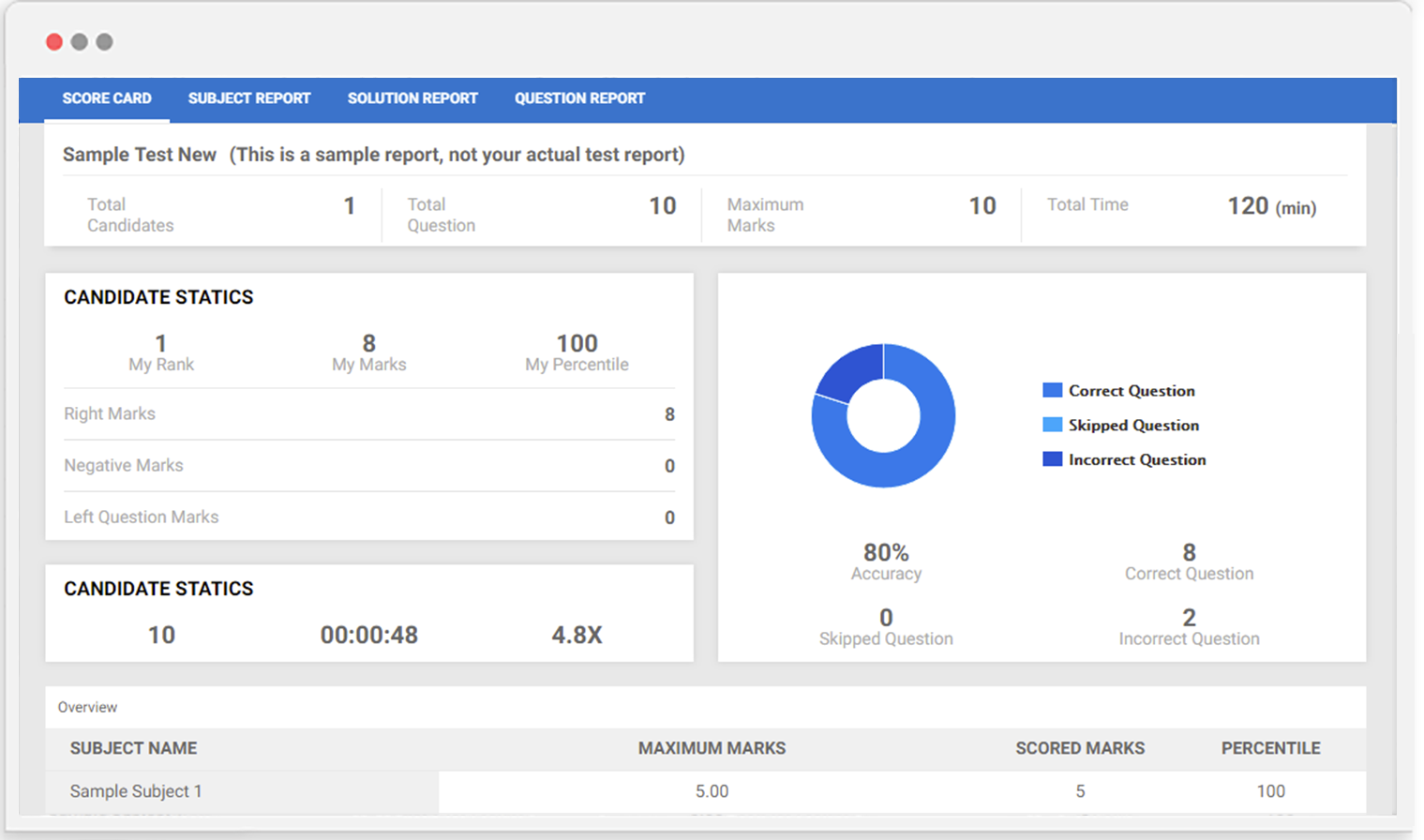 Detailed Reporting System
Get detailed insights with innovative scoring and analyzing tools that offer precision over marks obtained for every question and section of the test. It provides details on aspects like participants of the quiz, their individual scores , comparison of performance , highest & lowest scores as well as statistical comparison view. No need to apply manual efforts as quiz grading is automate and the scores can be instantly acquired and shared with respective participants.
Graphical and statistical reports
Analyze scores on different parameters
Automated quiz grading and feedback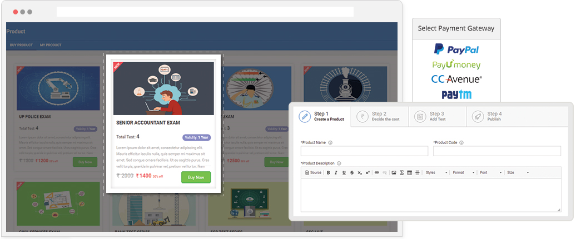 Repository of features and benefits
Think Exam the best online quiz maker, is a feature rich platform that provides multiple settings and functionalities for the ease of the users. Its smart configurations and customizable features are divided into 8 broad categories providing numerous settings. One of its most acclaimed features is "Monetize" where the user can create professional or business account to sell and earn from the created premium quizzes and test series.
Broad category of features
Customizable settings
Active notifications & secure interface
Monetize feature to sell and earn
We take pride in providing the best support
We value the importance of software support which keep us
active around the clock in helping our customers.
How it Works
Design your Quiz
Create online quiz, exams and tests
8 variants of question types
Add images, videos, graphs and mathematical equations
Add theme colors and your brand logo
Secured platform
Assign your Quiz
Share link via email or SMS
Email/print quizzes
Large concurrency
Share in groups as well as individually
Monitor candidates performance
Result Analysis
Detailed stats and reports
Immediate automatic grading
Instant sharing of results and feedback
Award customized certificates
Downloadable results
Ideal For
Think Exam as a quiz maker software is applicable in diverse industries and helps them in improving the quality of their assessments.
Educational Exams
Create and conduct any type of objective or subjective assessments with instructions. Schedule tests accordingly and prevent cheating with proctoring tool.
Recruitment Assessment
Conduct pre-employability tests and create assessments to assess and train your employees. Get in-depth reports and analysis instantly.
Online Quizzes
Create formative quizzes to analyze the quality of classroom learning, get advanced reports and keep a track on candidates' performance.
Personality quiz
Recruiters can create personality quizzes in psychometric tests and assign them to candidates or employees to get insight to their personality.
Government/PSU
Create Government exams and High-stake entrance exams. Conduct on a huge scale without any hassle, with its rich concurrency rate.