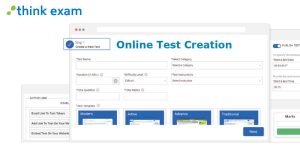 Think Exam is a perfect blend of advanced functionality and streamlined accessibility. This online examination system helps in conducting an examination and assessment, thereby developing a premium communication link in-between the assignee and the assessee. The easy-to-learn and highly interactive interface are designed to provide a channelized flow of information.
The admin can easily create online tests on Think Exam using the five-stage design cycle. It includes the test creation, test settings, question addition, publish quotes, and assignment of the test. The first step of test creation is to define the test name, time duration, the number of questions, total marks, instructions, and template selection. A set of 4 test templates are provided that have been designed using precise color combinations and the question pallet changes color with a change in the status.
Once the initial test definition is provided, the admin can mark the advanced settings for the test. It constitutes the grouping and shuffling of questions and answer options. The user can restrict or liberate the movement, mark timelines, and offer visibility to the scorecards. These advanced test settings will help in defining and experiencing the next-level test interface for the candidates.
The assignee can add 7 variant types of questions to the created test using three different techniques. This includes adding questions from the question bank, importing questions using an excel file, and can start a new question to the test. The admin can either add or delete questions from the created test.
Furthermore, the admin will share the start date, end date, and the time to publish the test. The publish duration is the time period the test will be available to the candidates on the candidate panel.
The defined test can be shared with the candidates, using three assigning procedures. This constitutes the assigning of tests using active links. The links can be shared via email to the candidate, a link can either be added or embedded on the website to the test or an access code can be shared to take the test.
The admin can create groups of the aspirants preparing for similar courses and can directly allocate tests to a particular group. The admin can create a product by clubbing tests and can associate the product with a candidate or a group of candidates.
Now, create an unlimited repository of tests that can easily be assigned to single and multiple candidates using the best online examination system in one go.